University of Miami Will Catch Hell Recruiting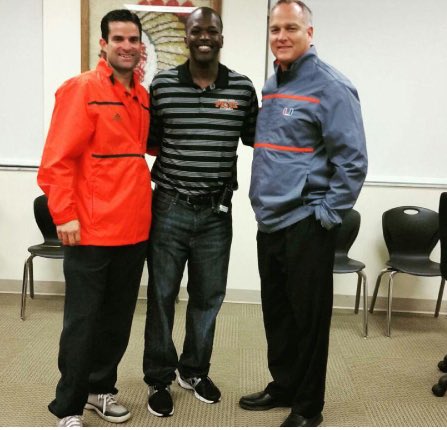 As Mark Richt prepares the University of Miami Hurricanes for their first major bowl game in years, his mission to restore the football program to glory is in major jeopardy. Since being hired as head coach last year, Richt only had to worry about competing against longtime rivals the University of Florida and Florida State University for homegrown high school talent.
To the south of Coral Gables, Richt now has to compete against Butch Davis, the new Florida International University head coach who led the Hurricanes back to college football dominance near the end of the 20th Century. He'll also have to ward off a new threat in Boca Raton. Florida Atlantic University's new head coach is Lane Kiffin, offensive coordinator for the University of Alabama whose team is playing for the national title for the third straight year.
Even if he can stop Davis and Kiffin from encroaching on the U's recruiting turf, Richt also has to worry about Charie Strong, who takes over the University of South Florida Bulls after holding the top coaching gig at Texas and Louisville, where he had 30 kids from South Florida on the squad, including Minnesota Vikings quarterback Teddy Bridgewater. Davis, Kiffin and Strong know how to recruit top flight high school student athletes in Miami-Dade, Broward and Palm Beach counties.
Outside of Florida, Alabama's offensive line coach Mario Cristobal, the University of Kentucky's wide receivers coach Lamar Thomas, Oregon State University's running backs coach Telly Lockette, and Oregon's new head coach Willy Taggart also pose a serious threat to the U's recruitment of South Florida high school players.
Meanwhile, Florida State still has Tim Brewster, the Seminoles' tight ends coach and recruiting coordinator who was able to poach former Miami Central high stars Devonta Freeman and Dalvin Cook from the Canes. And the Florida Gators are likely to promote former Canes head coach Randy Shannon to defensive coordinator.
Yet, Richt doesn't have anyone on his coaching staff with deep ties to the tri-county high school football pipeline. Back in the U's heyday, there was no doubting that local kids wanted to play for the orange and green in college. Nowadays, the Canes will be lucky to keep one or two guys in Miami.
Follow me on Twitter @Unclelukereal1
INSTAGRAM UncleLukereal1